Scalloped Fender Stratocaster
Posted: January 30, 2010
Introduction
So I already have 2 guitars I scalloped 10 years ago. A couple months ago I really felt like doing one more with different pickups and such. Plus I wanted to get a real strat instead of a Squier like the last guitar I scalloped. Unfortunately, I didn't want to spend the money on a guitar I might possibly ruin, so I bought a cheap Mexican strat. My final goal is scallop the fretboard, put on locking tuners, replace the saddles, and replace all the pickups with DiMarzio Cruisers in the Neck and Bridge and a blue DiMarzio YJM in the middle.
Anyway, I documented the process in pictures below on this page. I also have a fretless guitar and sound files of the red Squier.
Update August 1, 2020: I also recently scalloped a Fender Telecaster.
Details
So if you'd like to build your own Michael Kohn Edition (MK) Fender Stratocaster, here are the specifications:
Mexican Fender Stratocaster (With a scalloped fretboard).
DiMarzio Cruiser Bridge Pickup in bridge position
DiMarzio Cruiser Neck Pickups in neck and middle positions
Graphtech String Saver Saddles Part Number PG-8000-0C
Rock & Roll Q-Parts Chrome Straplocks
Fender Locking Tuners Part Number 099-0818-100
250k linear potentiometer for the volume control (read below why)
Thanks to Fazios Frets And Friends in St. Louis for ordering all the goofy parts I wanted :). I pretty much bought everything there including the Mexican Strat. They had the tuners in stock but had to special order the pickups and the the saddles. They also ordered some blue knobs for me, but they didn't really match so I'm going to keep looking for those :).
So why I made these modifications (other than the scalloping). The pickups should be obvious. The original Strat pickups were single coils with the 60 cycle hum while these DiMarzios are side-by-side humbuckers which seem to do a better job at keeping a single coil sound compared to a real full-size humbucker. The Fender locking tuners have a clamp on them so when you tie the string around the tuner they are also clamped in so it stays in tune better. I must say, these seem like 1000% better quality than the Sperzel locking tuners I've been using for years. Plus they fit perfectly in my Mexican Strat. I didn't have to drill holes to make them fit. The String Saver Saddles are something I put on the red Squier Strat and I will put on all my guitars from now on. What a HUGE difference they make. Lastely I replaced the volume control since most guitars come with logarithmic potentiometer. I guess the idea is that since human hearing is logarithmic that a log volume control would make it sound even, however the volume control here (especially when I have overdrive going) seems to be more of a level control. So if I use a linear potentiometer, the strength of the single is uniform and I can create volume swells and such. I'm going to change the knobs and put a little removable tattoo on the pick guard too as soon as I pick out what I want.
Sound Files
strat_test2.mp3 (some improvised random notes with a clean sound)
strat_test3.mp3 (another improvised random set of notes with a clean sound)
strat_test5.mp3 (part of a Guns N' Roses song with distortion on)

Pictures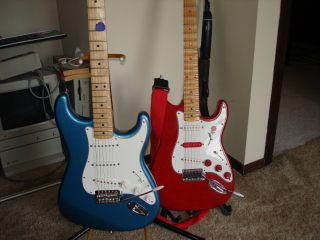 On the left is the Mexican Stratocaster (aka, Mexistrat) which is about to go "under the knife". The red guitar on the right is my Squier Strat which I scalloped over 10 years ago. This guitar has all DiMarzio HS3 pickups. On the fretboard, I accidently scalloped one of the dots off so I replaced them all with red stars. This guitar has Sperzel locking tuners, a replaced nut, and string saver saddles.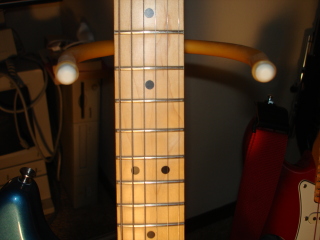 Here's a closeup of the fretboard before any scallops were cut.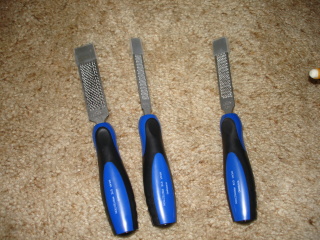 My main tools of destruction.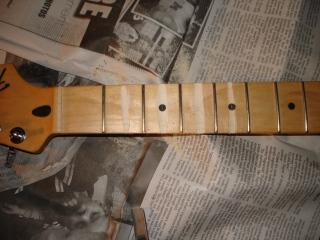 ZOMG! What have I done? Here are the first cuts into the neck. Took me a while to get the nerve to actually start but I finally got up the courage to start it.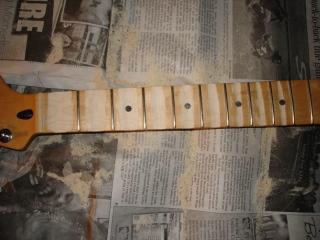 30 to 60 min later...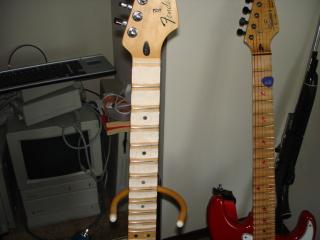 After my second session of cutting..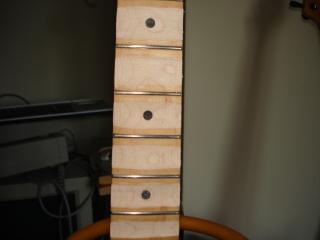 Close up..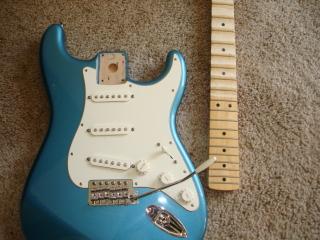 Time to take the neck off...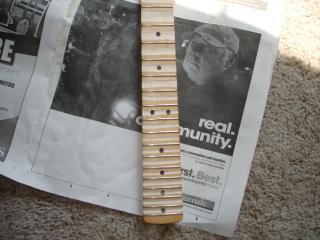 More progress...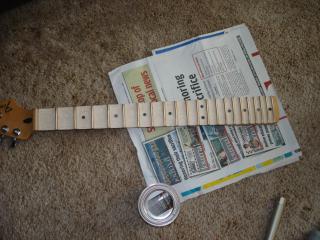 All done carving. Sanded smooth with really fine sandpaper.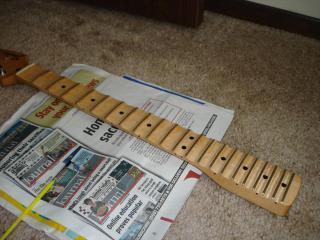 Stained with Minwax Polyurethane Clear Satin.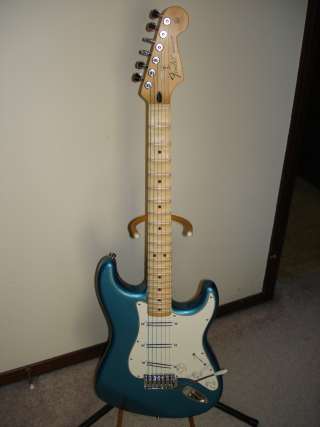 The whole guitar all done with the blue strings.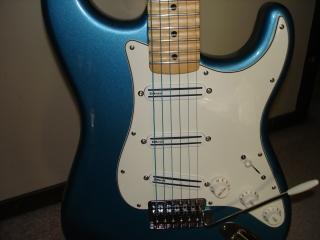 Closer picture of the finished guitar.
Copyright 1997-2023 - Michael Kohn