Android Apps
Naken Video Poker
Posted: December 5, 2010
Here is my very first Android app. This is the video poker game that I originally wrote for standard Java and then made it into a J2ME app for older mobile phones. I rewrote pieces of it to work on Android phones and made new cards by drawing with a Sharpee marker on printer paper, scanning it, cutting out the pieces using The Gimp, and putting the pieces together with Dia. I made a demo version which should run in a web browser here.
I recently made a newer version of this to run on the Nook Color and Nook Tablet. It's currently listed on the Nook app store under Mike Kohn Poker, although it's not getting very friendly reviews so I may take it down. I guess some people don't understand that 1) being a free app, I can't afford the copyright to use professionally drawn cards 2) my idea of hand drawing the cards in the style I did was supposed to be my idea of artistic and give the game a boost of personality from me. Owell.
My plan is possibly to add sound to this and also to make an iPhone / iPad version of this using GL to rotate cards and such.
Download: Naken Video Poker is available on the official Android Market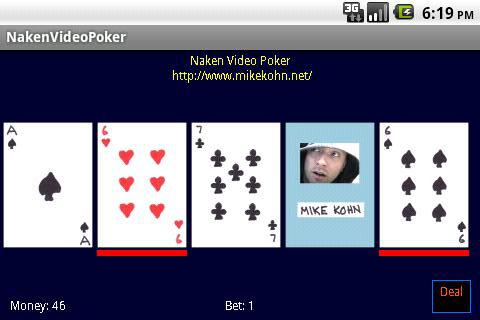 Hangman
Posted: December 24, 2010
This is another one of my J2ME app for older mobile phones that I've rewritten for Android. My friend Joe Davisson drew all the graphics for me and the words come from a wordlist of over 7000 words I downloaded from... somewhere :). I recently added Swedish and German lists and ported it to the iPad / iPhone: http://itunes.apple.com/us/app/michael-kohns-hangman/id412378416?mt=8&ls=1.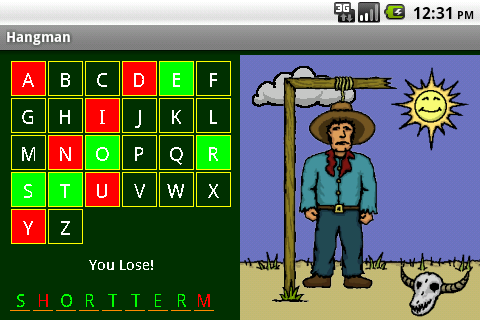 This game is also now listed on the Nook app store for Nook Color and Nook Tablet. It has a new dictionary with more ordinary words instead of the "jargon" password cracking dictionary and a couple new wordlists. I'll probably move those to the normal Android version when I get a chance.
BlueTemp
Posted: November 17, 2011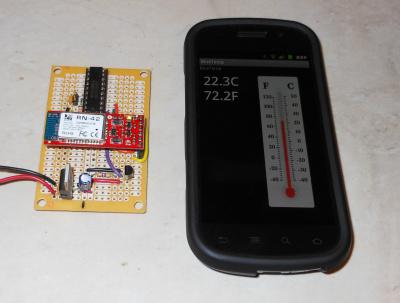 I made a Bluetooth thermometer with an Android and Apple iOS app. For more info check my bluetooth thermometer page.
Sliding Puzzle
Posted: December 29, 2011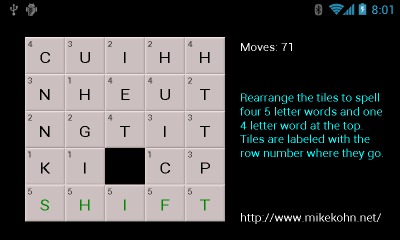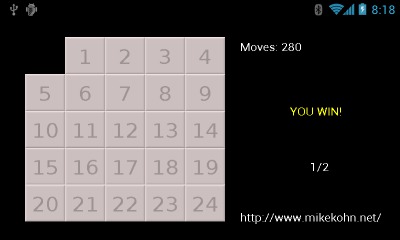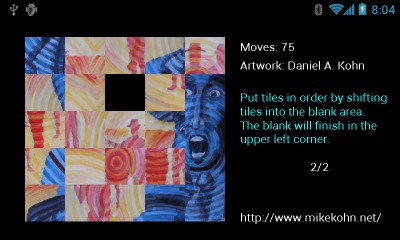 This game is available free on the Google Play Store, Nook store, and Apple iTunes. This is simply a sliding puzzle game. The first version of the game is to slide a set of numbers in order. The second is to put a painting together. The last is a word game where each row spells a random word. The row number is placed on each word and word will light up green when the word is correctly spelled.
This can be downloaded for iTunes here: http://itunes.apple.com/us/app/sliding-puzzle-game/id505857569?mt=8
Bluetooth Toy Car
Posted: September 13, 2013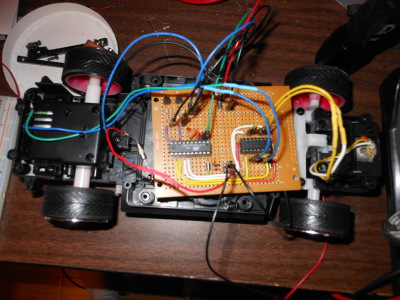 I bought a $20 toy car and ripped out all the electronics except the motor and battery clip, and replaced it all with my own circuit. The car is now controlled with the accelerometers of my Nexus S phone over bluetooth. For more information check my Bluetooth Toy Car page.
Copyright 1997-2023 - Michael Kohn