Music/Guitar Playing
Original MP3 Recordings
I'm playing guitar and bass on all these songs. All drums are either Dynamic Drums on an Amiga computer, a Dr. Rhythm Drum machine, or (on the newer songs) from Garage Band on a Mac. Som of these recordings are quite old when I hadn't been playing guitar for very long then, but I figured it'd be fun to post them anyway.
java_kong.mp3
January 9, 2023: Wrote and recorded this song for a Nintendo 64 Java Demo.
java_grind.mp3
January 2, 2020: Wrote and recorded this song for an Amiga Java Demo.
electronic_party_v2.mp3
May 25, 2020: Recorded this song for a video I made. Still not sure I'm totally happy with how it came out so I might redo it later, but the song is neat.
shoebox_full.mp3
August 6, 2017: Wrote this little song for my Coin Acceptor project. On August 8, 2018 I used the song in my Playstation 2 Java Demo along with another song using a fretless guitar.
strat_test3.mp3
January 31, 2010: I did this to post a sound sample of my latest scalloped guitar I worked on. This is completely improvised.
green.mp3
March 30, 2008: Just playing around with Garage Band. Just some improvised playing.
tap.mp3
March 30, 2008: More Garage Band. Just playing around wtih some finger tapping.
Unnamed
April 1997: A little hypnotic song I did on an old Tascam 4 track.
Deep Sleep
January 1996: Not much to say.. old song :).
Bach Little Fugue
June 1994: First couple minutes of one of my favorite J.S. Bach songs.
Air
June 1993: Music by J.S. Bach. I wasn't sure if I should post this. Sounds kind of cool and kind of crappy at the same time. This is one of the first few things I did with a Tascam 4 track I got. I was reading the music from sheet music over a boring drum track.

The following songs were either songs my old band Scimitar used to play or songs that belong to the band.
Kill
April 1994: Lyrics by Joe Welch, Music by Michael Kohn. Vocals are Joe Welch (not the singer for Scimitar, but the drummer), all guitars, bass, and drum programming (on an Amiga 500) by Michael Kohn, background vocals by Jon Parsons, Brian Grote, and Michael Kohn.
Mindless
May 2018: Lyrics and music by Joe Welch. I recorded this recently for fun. I'm playing all the instruments and since I didn't have a singer I used macOS's voice simulation to do most of the vocals.
Loser
April 1994: Music and Lyrics by Jon Parsons and Joe Welch. Vocals Jon Parsons, lead/rhythm guitar Michael Kohn, rhythm guitar Brian Grote, drums by Dynamic Drums on an Amiga 500.
Distance
July 1994?: Music and Lyrics by Jon Parsons and Joe Welch. Vocals and guitar: Jon Parsons, lead/rhythm guitar: Michael Kohn. After Scimitar disbanded, Joe and Jon put this song together for a different band.
The Wakeup Call
April 1994: Music Jon Parsons and Michael Kohn. So Joe (Welch) leaves a series of messages on Jon's answering machine to wake him up for band practice. We put music to it :). This wasn't actually a Scimitar song, but I thought it kind of belongs in this section.

Miscellaneous
Passing Day
January 1995: I recorded this with Jon Parsons (bass player in Scimitar). Vocals, guitar, and drum programming by Jon Parsons and guitar and drum programming by Michael Kohn.
---
My Guitars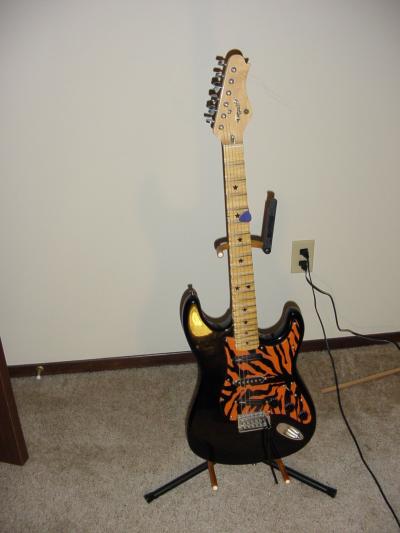 Tiger Striped Lotus - I bought this guitar for about $85 so I could practice woodworking and electronics on it. I scalloped the fretboard using a file and sandpaper and finished it with wood sealant. I then ripped out all the electronics and put in DiMarzio Cruiser pickups along with the tiger-striped pickguard. Cruiser pickups have a nice thick tone but still have a nice single coil sound. I believe these are almost as same as the Fast Track pickups I put in the guitar below, except the two coils in the pickup are different sizes.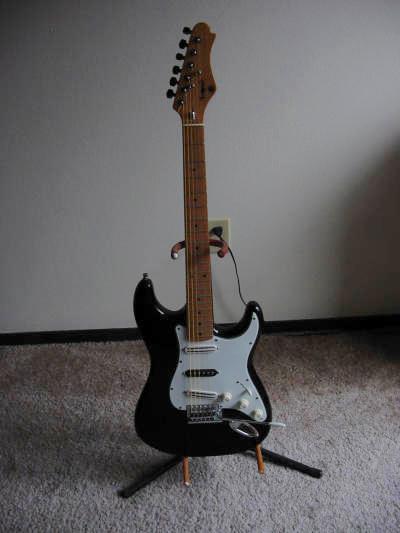 Black/White - This is another Lotus I got for about $80. I again ripped out all the electronics and completely rewired it with DiMarzio Fast Track pickups. These pickups give it a really thick tone, much thicker than the Cruiser pickups, without sounding too humbucky. The Fast Track, along with the Cruiser pickups, are basically a two coil pickup in a single coil package.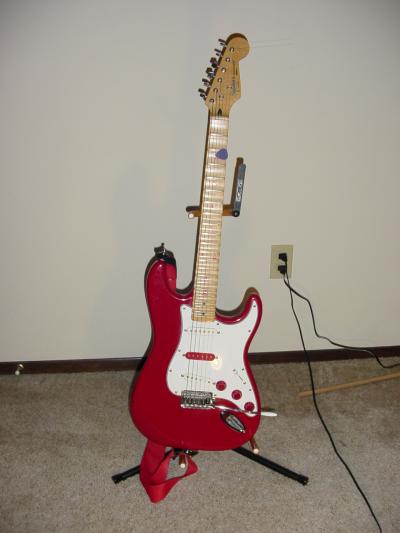 Red Squier - This is the guitar I'm playing the most right now. It's a Fender Squier Strat which I again ripped out all the electronics and replaced everything including the pickguard. I scalloped this fretboard just like the tiger striped guitar, except I did a much nicer job. I sealed it again with a clear wood sealer. The pickups in the neck and bridge are DiMarzio HS-3 which have 2 "stacked" coils to get rid of the single coil hum, but still (in my opinion) have a very single coil sound to them. The middle pickup is a DiMarzio SDS-1 which is a noisy, but very loud single coil. If you'd like to see a close up of what the scalloped fretboard looks like look here: Pic 1, Pic 2
Copyright 1997-2023 - Michael Kohn